Join us for a Spooktacular Night
Boo Bark Ball: A Halloween Pet Fundraiser
Date: October 18, 2023
Time: 6pm-9pm
Location: Rayback Collective
2775 Valmont Road, Boulder, CO 80304
Hosted by: Dean Callan & Company Property Management Services, Inc.
🐾 Calling all goblins, ghosts, and furry friends! 🎃
Get ready for a howling good time at the Boo Bark Ball, a Halloween-themed pet fundraiser like no other! Join us for a night of spooky fun, fantastic food, and paw-sitively delightful surprises—all while supporting our beloved pets in need.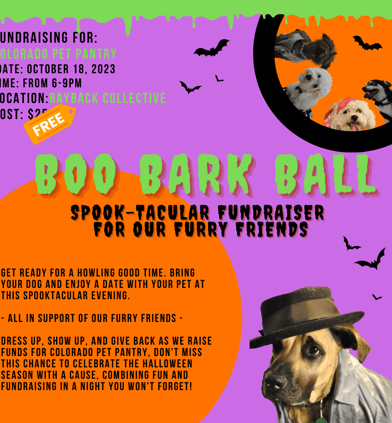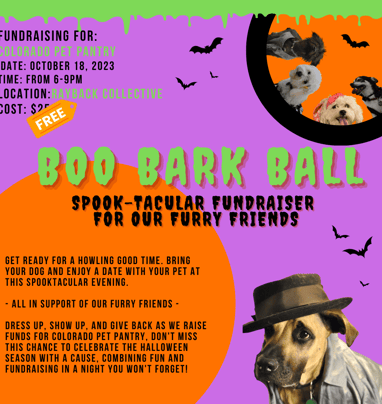 Door Prizes - tickets only $5 a piece or 4 for $20
Bottle of David Akiyoshi Ink Ink Ink 2018 Red Wine Blend

Bottle of Franc Susak 2020 Sauvignon Blanc

$25 Gift Card to Protos Pizza

TWO $25 Gift Card to Mudrock's Tap & Tavern

$25 Certificate to Blue Dog Creations

Blue Dog Hoodie from Blue Dog Creations

Taste of India Basket from India Bazaar

CU Boulder Basket BOCO Life

CU Boulder and Pets Basket from BOCO Life

Doggie Treat Basket - Lumen

Movie Night Basket - Carla Castillo Real Estate

$200 Gift Certificate to the Frame Shop

6 Month's of Wine Storage with Corkscrew

Two $500 Gift Certificates for landscaping with Green Spaces